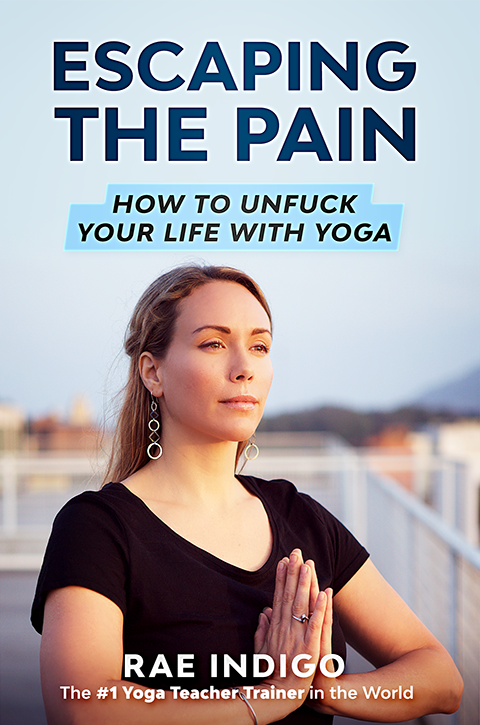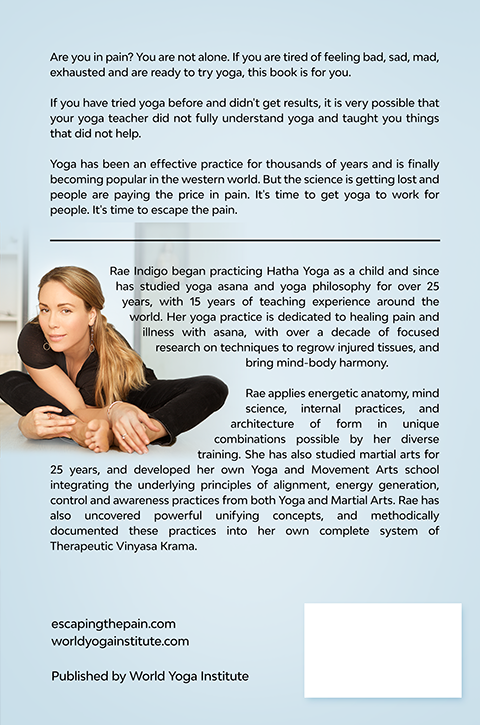 Escaping the Pain
How to Unfuck Your Life with Yoga
Why did I write this book?
The yoga world is full of shit. People are sincerely trying to better their life and are given techniques that don't work. It is time to course-correct where yoga is taken in the main stream.
Book – Summary
Are you in pain? You are not alone. If you are tired of feeling bad, sad, mad, exhausted and are ready to try yoga, this book is for you.
If you have tried yoga before and didn't get results, it is very possible that your yoga teacher did not fully understand yoga and taught you things that did not help.
Yoga has been an effective practice for thousands of years and is finally becoming popular in the western world. But the science is getting lost and people are paying the price in pain. It's time to get yoga to work for people. It's time to escape the pain.
About Rae
– founder of World Yoga Institute
– the Best Yoga Teacher Trainer in the World
– has run a global yoga school for 10 years
– wrote and produced 3 music albums
Rae Indigo began practicing Hatha Yoga as a child and since has studied yoga asana and yoga philosophy for over 25 years, with 15 years of teaching experience around the world. Her yoga practice is dedicated to healing pain and illness with asana, with over a decade of focused research on techniques to regrow injured tissues, and bring mind-body harmony.
Rae applies energetic anatomy, mind science, internal practices, and architecture of form in unique combinations possible by her diverse training. She has also studied martial arts for 25 years, and developed her own Yoga and Movement Arts school integrating the underlying principles of alignment, energy generation, control and awareness practices from both Yoga and Martial Arts. Rae has also uncovered powerful unifying concepts, and methodically documented these practices into her own complete system of Therapeutic Vinyasa Krama.